Bill de Blasio is a Uniquely Vulnerable Incumbent who Needs to be Challenged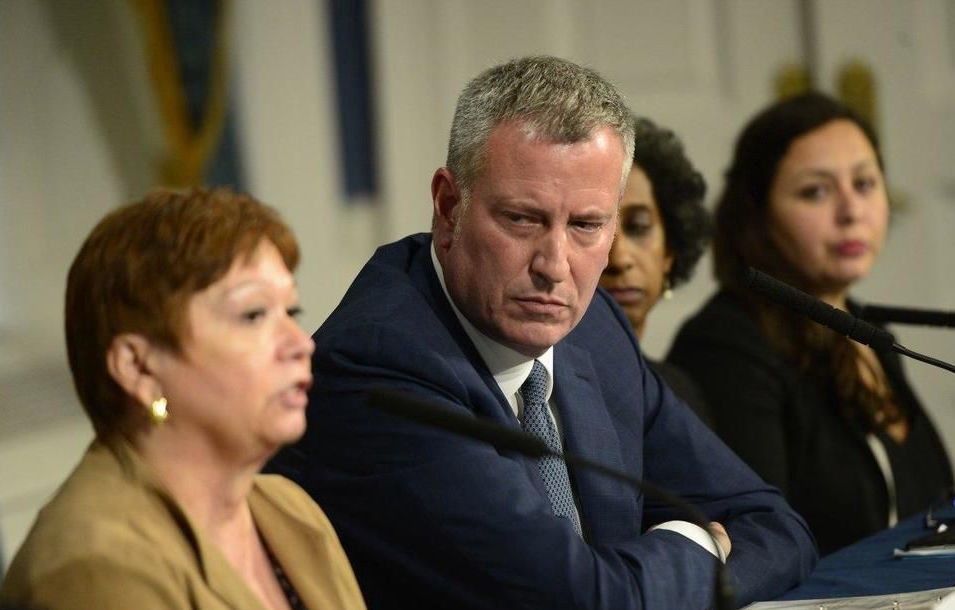 A New York Times piece about Mayor Bill de Blasio's early 2017 re-election campaign caught my eye recently — in particular, the fact that the Mayor is trying to "ward off any potential Democratic challenger from jumping into the race" by securing the endorsements of several unions.
It's the right plan from his point of view. Challenging an incumbent in your own party is always risky, so enough early momentum from the Mayor might be enough to dissuade serious rivals from running. If he cruised in the primary, there would seemingly be little to stop de Blasio from claiming a second term.
But in my view, this strategy has a wider purpose — to disguise the fact that de Blasio is incredibly vulnerable to a primary challenge. Why? Because any rival could establish a simple narrative: the Mayor is a total hypocrite.
This is a man who ran on a clear platform in 2013: as he termed it, "a tale of two cities". In his view, income inequality and institutional prejudice had combined to make the wealthiest city in the country one that didn't serve all of its citizens.
To be clear, I agreed with the Mayor's vision during the campaign, and I do now. The city is too unequal, and not enough is being done to help the poor and disenfranchised. The problem is that as mayor, de Blasio has shown absolutely no ability to affect change that actually might help those in need.
His attention has instead veered from one pointless fight to another, from restricting Uber to banning horse-drawn carriages to endless sparring with Gov. Andrew Cuomo, a feud that has harmed New Yorkers more than anybody. Meanwhile, more serious initiatives like Vision Zero have produced precious little in terms of results — in fact, more pedestrians and cyclists are being killed on the streets of New York than this time last year.
And according to CUNY's Institute for State and Local Governance, inequality is getting worse in the city, with a recent report finding that "disadvantaged groups — mainly women, racial and ethnic minorities, noncitizens and those with disabilities — are almost twice as likely to suffer bad outcomes in education, housing and health." Income inequality has also risen under de Blasio.
In other words, de Blasio has not made an impact where it actually matters for New Yorkers; instead, he's gotten lost in a sea of hubris and distractions. This was crystalized by an incident in October, where the notoriously late de Blasio ended up taking a ride on a police helicopter that landed in the middle of Prospect Park (!) to avoid being late to a speech:
Of course, landing a helicopter in a park is otherwise illegal, and the Mayor was roundly criticized for this trip by nearly every major news outlet in the city. But why is de Blasio always late? Maybe it has something to do with the fact that he travels from Gracie Mansion on the Upper East Side to Park Slope most mornings so he can work out at the 9th street YMCA and visit all his favorite local retailers:
In other words, this "Tale of Two Cities" mayor is wasting time riding in his motorcade and buying pastries at Colson instead of working on behalf of the public or trying to understand what average New Yorkers go through on a daily basis (like navigating the ever-more-degraded subway).
And just this week, the Daily News reported more allegations of corruption at the Mayor's now-defunct charity the Campaign for One New York, which is a story that will certainly continue to expand (with possible indictments) by the time the election rolls around in 2017. This pay-to-play scandal reeks of everything voters hate about local politicians.
To be sure, a challenge to de Blasio would be no simple task, not least because his image is one of a standard-bearer of progressivism in the Trump era. He almost certainly will claim that any rival is creating a needless schism in the Democratic party.
But there is so much evidence that this mayor has not lived up to his central campaign promise. Therefore, other Democrats have a huge chance to challenge him forcefully in the primary — and win.
David McIntyre Newsletter
Join the newsletter to receive the latest updates in your inbox.
Comments